Foundation VIPSport – www.naarrio.nl
Nico Waerts (KM) director Femeraid Netherlands (board member and founder VIPsport Foundation) and Larissa Klaassen (board member founder of the Foundation VIPSport).
The Foundation was founded in October 2013 and aims to support athletes with a visual impairment in the exercise of their custom sports.
First goal
Raise money for the as good as blind HvA-computer Larissa Klaassen science student for Custom track cycling and to guide her financial on the way to the Paralympic Games in Rio de Janeiro 2016.
First success
Achieved 21 mrt 2016 world champion (Montichiari) with pilote Haliegh Dolman. And the Foundation has also received the necessary money together with the sponsors. Larissa is also allowed in the Para Olympic team and also sent out to Paralympic Games in Rio de Janeiro 2016.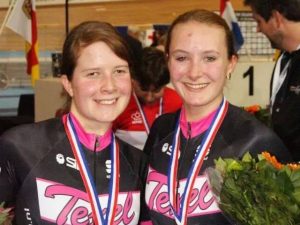 The ultimate dream
Taking part in the Paralympics together in Rio de Janeiro in 2016 and winning a medal there, this is the ultimate dream for Larissa Klaassen (left) en Haliegh Dolman (right).
Stichting VIPSport is helping them to achieve their dream! Larissa Klaassen and Haliegh Dolman do para-cycling: cycling for people with a disability. Larissa is near- blind and needs the sighted pilot Haliegh as 'stoker' (at the back of the tandem) for the steering. The duo specializes in (sprint) races on the track.